Description
Get in the Kitchen Cooking Party & Game Night- Chicago Cooking Classes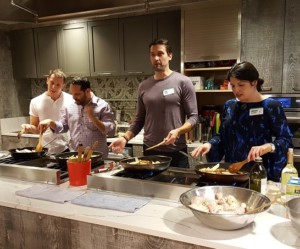 Learn how to make an amazing Frango de Alho Português (Portuguese Garlic Chicken) while you laugh and drink wine! Mix and mingle, play games while Jason Bailin, the author of the Get in the Kitchen! Cookbooks gets your butt cooking a home cooked meal you won't soon forget! Join us for a night of wine, food, socializing, game night and general hilarity! This will be a hands-on cooking party!
Grab a friend or three and head on over for the best cooking class you'll ever attend!
Price of admission includes free copy of "Get in the Kitchen, [email protected]!" cookbook, cooking class, games, dinner…and general hilarity. BYOB!
Menu: Frango de Alho Português (Portuguese Garlic Chicken), Crispy Potatoes & Greens made by you! 
Date & Time: Thursday, July 5th, 2018 6:30 PM
Place: Get in the Kitchen! 3617 N. Broadway St., Chicago, IL 60613
ALL STUDENTS MUST SIGN A WAIVER BEFORE PARTICIPATING IN CLASS
REFUND POLICY: YOU MAY GET A FULL REFUND UNTIL 7 DAYS BEFORE THE CLASS. AFTER THAT WE WILL GLADLY GIVE YOU CREDIT TOWARDS ANOTHER GET IN THE KITCHEN! COOKING PARTY AS LONG AS WE CAN FILL YOUR SPOT UNTIL TWO DAYS BEFORE THE EVENT. IF YOU CANCEL WITHIN 48 HOURS OF THE EVENT, YOU UNFORTUNATELY FORFEIT YOUR CLASS FEE, BUT CAN SUBSTITUTE ANYONE IN YOUR PLACE.
Chicago Cooking Classes- Don't let anyone else have your fun!