Description
Get in the Kitchen! Pizza Night! & Top PizzaMaster Contest- Chicago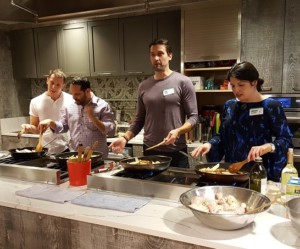 Learn how to make amazing pizza while you laugh and drink wine! Mix and mingle while Jason Bailin, the author of the Get in the Kitchen, [email protected]! Cookbooks  gets your butt cooking an assortment of pizzas you won't soon forget! We will teach you how to make pizza dough, a white parmesan bechamel sauce, a tomato sauce and then show you two amazing pizza recipes to start us off. Then we will let you create your very own pizza recipes in teams of 4 or 5 from an assortment of meat, vegetarian and cheese ingredients! WE WILL BE MAKING VEGETARIAN OPTIONS, SO THIS IS VEGETARIAN FRIENDLY. Once you get the hang of it, we will have one final "Top PizzaMaster" contest where we will pick an ingredient and your team will compete for prizes for the best pizza! Join us for a night of wine, food, socializing and general hilarity! This will be a hands-on cooking lesson.
Grab a friend or three and head on over for the best cooking class event you'll ever attend! Adult language will be used so don't even think of bringing anyone with virgin ears.
Price of admission includes free copy of "Get in the Kitchen, [email protected]!", cooking class, wine, appetizers,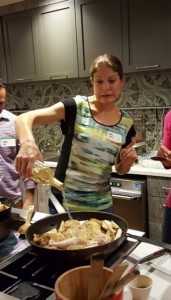 dinner…and fun!
Menu: 2 Pizzas recipes taught by us, and then your turn to design your own! Accompanied by Light Appetizers & Dessert
Date & Time: Tuesday September 26, 2017 6:00 PM SHARP
Place: The Whole Foods Cooking School at Lincoln Park: 1550 N. Kingsbury Street, Chicago, IL 60642
ALL STUDENTS MUST SIGN A WAIVER BEFORE PARTICIPATING IN CLASS
REFUND POLICY: YOU MAY GET A FULL REFUND UNTIL 7 DAYS BEFORE THE CLASS (SEPTEMBER 19, 2017). AFTER THAT WE CAN OFFER A CREDIT TOWARDS ANOTHER "GET IN THE KITCHEN, [email protected]!" COOKING CLASS AS LONG AS WE FILL YOUR SPOT UNTIL 2 DAYS BEFORE THE EVENT. IF YOU CANCEL WITHIN 48 HOURS OF THE CLASS, YOU UNFORTUNATELY WILL LOSE YOUR MONEY, BUT CAN SUBSTITUTE ANYONE YOU WANT.