Description
Greased, Pounded & Basted LGBT Pizza Night!- Chicago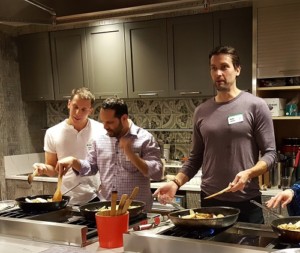 I'm not gonna coddle you, hold your hand or even tell you that you look hot in an apron. I'm not your momma, sweetheart. I'm your daddy, [email protected]!
Learn how to make amazing pizza and meet potential loves while you laugh and drink wine! Mix and mingle with the other lowly kitchen [email protected] while Jason Bailin, the author of the Get in the Kitchen, [email protected]! Cookbooks and Andrea Muo, Hot Italian Guy, get your sorry butt cooking an assortment of pizzas you won't soon forget! We will teach you how to make pizza dough, a white and tomato sauce and then show you three amazing pizza recipes to start us off. Then we will let you [email protected] create your very own pizza recipes in teams of 5! Join us for a night of wine, food, socializing and general hilarity! This will be a hands-on cooking lesson that will hopefully lead to some hands-on fun for you and your soon to be husband or wife!
Grab a friend or three and head on over for the best singles event you'll ever attend! Adult language will be used so don't even think of bringing any whiny-ass [email protected] with virgin ears.
Price of admission includes free copy of "Get in the Kitchen, [email protected]!", cooking class, wine, appetizers, 

dinner…and hopefully some lovin'.
Menu: 3 Pizzas recipes taught by us, and then your turn to design your own! Accompanied by Light Appetizers & Dessert
Date & Time: Tuesday September 19, 2017 6:00 PM SHARP
Place: The Whole Foods Cooking School at Lincoln Park: 1550 N. Kingsbury Street, Chicago, IL 60642
ALL STUDENTS MUST SIGN A WAIVER BEFORE PARTICIPATING IN CLASS
REFUND POLICY: YOU MAY GET A FULL REFUND UNTIL 7 DAYS BEFORE THE CLASS (SEPTEMBER 12, 2017). AFTER THAT WE CAN OFFER A CREDIT TOWARDS ANOTHER "GET IN THE KITCHEN, [email protected]!" COOKING CLASS AS LONG AS WE FILL YOUR SPOT UNTIL 2 DAYS BEFORE THE EVENT. IF YOU CANCEL WITHIN 48 HOURS OF THE CLASS, YOU UNFORTUNATELY WILL LOSE YOUR MONEY, BUT CAN SUBSTITUTE ANYONE YOU WANT.