Description
Greased, Pounded & Basted -Gay Single's Cooking Classes Chicago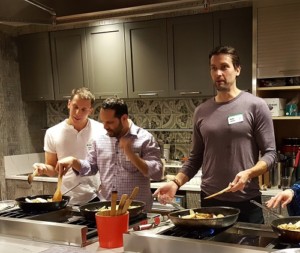 Join Jason Bailin, Author of the Get in the Kitchen, [email protected]! Cookbooks for an amazing Cooking Party!
Come meet your next ex boyfriend, drink some wine, learn how to make an an amazingly delicious Red Wine Cajun Chicken and Mac & Cheese Meal and play awesome games for prizes. Its gonna be epic!
Grab a friend or three and head on over for the best cooking class event you'll ever attend!
Price of admission includes free copy of "Get in the Kitchen, [email protected]!", cooking class, wine, appetizers, 

dinner, tons of fun…and hopefully some lovin'.
Menu: Red Wine Cajun Chicken & Andouille Sausage and Mac & Cheese! Accompanied by Light Appetizers & Dessert
Date & Time: Wednesday, April 18, 2018 6:00 PM SHARP
Place: The Whole Foods Cooking School at Lincoln Park: 1550 N. Kingsbury Street, Chicago, IL 60642
ALL STUDENTS MUST SIGN A WAIVER BEFORE PARTICIPATING IN CLASS
REFUND POLICY: YOU MAY GET A FULL REFUND UNTIL 7 DAYS BEFORE THE CLASS. AFTER THAT WE CAN OFFER A CREDIT TOWARDS ANOTHER "GET IN THE KITCHEN" COOKING CLASS AS LONG AS WE FILL YOUR SPOT UNTIL 2 DAYS BEFORE THE EVENT. IF YOU CANCEL WITHIN 48 HOURS OF THE CLASS, YOU UNFORTUNATELY WILL LOSE YOUR MONEY, BUT CAN SUBSTITUTE ANYONE YOU WANT.
Ever thought "I'd like to find awesome cooking classes near me?"  Well. You're in luck! Cooking Classes Near Me. Don't let someone else have your fun!