Description
Indian Cuisine by Naveen- Chicago
NOTE: THIS IS NOT A "GET IN THE KITCHEN" COOKING CLASS. We are simply issuing the tickets for the Meetup Group. Naveen's Cuisine is not affiliated with Get in the Kitchen!
Learn how to make an amazing Indian Dinner at Naveen's Cuisine! Naveen specializes in Indian and Thai food – the worlds most vibrant and flavorful cuisines! Classes are BYOB, and there is no corkage fee. Classes include instruction, recipes, ingredients and of course enjoying all the delicious food that you learn to prepare.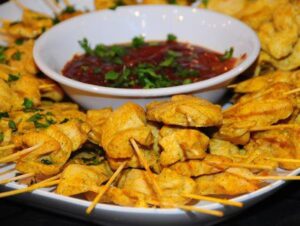 Menu: Vindaloo Night
Murgh Vindaloo – Chicken cooked with potatoes in a spicy aromatic curry
Saag Paneer – Paneer (Indian cottage cheese) cooked with spinach
Chawal – Steamed Basmati Rice
Date & Time: Saturday, April 28,2018 6:00 PM 
Place: Naveen's Cuisine  2325 West North Avenue, Chicago, Illinois, IL – 60647
REFUND POLICY:If you need to cancel your class registration, please contact us via email, one week prior to your scheduled class to cancel your registration to get a full refund of your class dues. With less than one weeks' notice, we will reschedule your registration to another class at no charge. Cancellations are not allowed day of class. If you are a "no show" for a class, you forfeit your class payment.